DCMTK
From KitwarePublic
Jump to navigation
Jump to search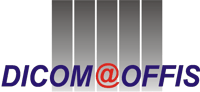 DCMTK is a collection of libraries and applications implementing large parts the DICOM standard.These files include full support for configuration with CMake.
Compilation under MSVC 6.0/.Net, Cygwin, MingW (gcc), free Borland compiler is now possible using CMake.
Note: Some fixes have been included in the code to support the Free Borland Compiler.
If you have any questions please send an email to Julien Jomier.