Agenda&Status 081710
From KitwarePublic
Jump to navigation
Jump to search
How to Join the Tcon
Number to Call
1-800-728-9607 (in the US) or
+1 9139049873 (international)
access code 6815251
Webex
Project Management
Technical Topics
Stable ITK 3.20
How to get it.
Maintenance rules (gate keeper ?)
Sequestered Reference Applications
Slicer
OTB

Nightly build use the current ITKv4.

V3D Plugins
IGSTK
DICOM
Dan and Mathieu to report
Simple ITK
Design Discussions
Sandbox in Github
Aggregating an ARB (composed of potential future users)
Wrapping
Plans for wrapping
Tools
update from brad on wrapitk test (new swig usage that addresses existing concerns)?
Refactoring Optimization Framework
Modularization
Gabe Hart to report of initial Modularization efforts
Exploration of Ryppl

Interaction with Boost
Brad King & Dave Cole Report
Microscopy
Scheduling a dedicated tcon for this topic.
Luis to report
Microscopy community.

Pixel types used
Image Dimensions (2,3,4,5)
Channels as dimension ?
Time as dimension ?
Memory organization ?
Multi-scale datasets
Needs for Object representation data structures
Management of Large Datasets
Sean Megason & Arnaud Gelas

Needs

Large data sets (greater than RAM) - 100GB to 1TB per experiment
PixelType may be scalar, vector, or tensor
How to deal with multiple channels and time points (e.g. dimensions, vector)
ordering dimensions for iteration (e.g. tracking nuclei needs time before channel whereas segmentation might want channel before time)
Crop and resample n dimensional image into m dimensional image (m<n)
Having a multi-resolution representation for images ? ( ala JPEG2000, or wavelets ?)

Partial solutions

meta reader - n-dimensional image set stored on disk (or database) as series of 2-d images. Reader can grab any subset of dimensions and stream. Needs an n-dimensional container (hashtable) that can be sorted.
ITK Readers for Microscopy formats
There's a need for readers in the microscopy community in order to be able to use ITK

Zeiss (LSM and ZVI)
Leica (LIF)
Olympus (OIB)
Nikon ()

BioFormats has readers and example files for these. It is Java with C++ bindings for ITK, BUT it's GPL.
Software Process
Migration to Git
Migration Completed

Workflow

Master & Next ? See here.
Topic Branches: See the ITK Topic Stage, and an example topic merge.
Dashboard Branches

Master Nightly: so all nightly builds use same source

Hooks

Come to agreement on which hooks to use for ITK4 (Lorensen)
KWStyle?
Updating Dashboard Machines to Git
Contractors to send information to Kitware about the developers who should receive Git write access.

(include email and public SSH key)
Before Giving Git Write Access
Clean up Releases
| Release Tag | Date | Major Changes |
| --- | --- | --- |
| Alpha-01 | August 7 | VS6,BCC55, SunCC (5.7?), Metrowerks Removal (based on compiler features), Remove large Images |
| Alpha-02 | August 14 | CMake Variables configuration cleanup |
| Alpha-03 | August 21 | GDCM 2.0, OpenJpeg-v2, +JPEG2000 |
| Alpha-04 | August 28 | Third party libraries update: TIFF, JPEG, PNG |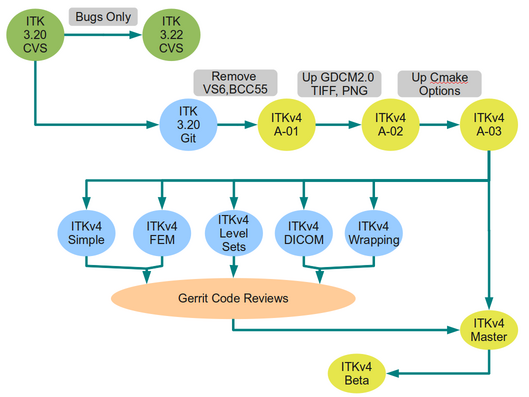 Hans Johnson to report on compilers cleanup.

and experiences with Git workflow.
Unit testing framework
A tutorial has been drafted using the Google Testing framework.
Tools
Coding Style
Fixing KWStyle/CDash/CTest for Git : Brad Davis report